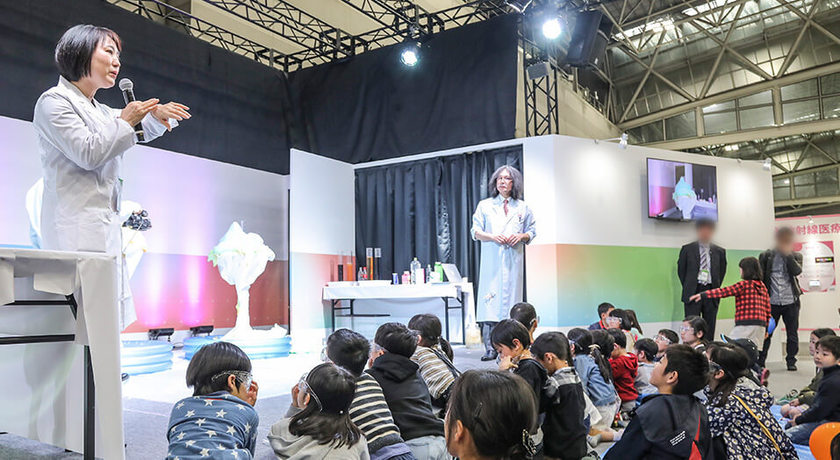 05.16.2019
The Quadrennial "Health Future EXPO 2019" Comes to a Successful Conclusion
---
The medical theme park "Health Future EXPO 2019" is an exhibition for citizens organized as part of the General Assembly of the Japan Medical Congress. The event was held for nine days from Saturday, March 30, through Sunday, April 7, at the international exhibition hall Portmesse Nagoya in Nagoya. Numerous guests, mainly families, visited the venue, with the number of visitors totaling around 300,000. With support from a number of concerned parties, including exhibitor companies and organizations, members of the organizing committee, partner companies, and staff members at the venue, the event came to a successful and enthusiastic conclusion.

We received favorable comments from visitors, such as "There were many booths where we, as parents, could fully enjoy and learn, and we spent a very satisfactory day." It was impressive that parents contentedly watched their children, who will be responsible for a future society of good health and longevity in Japan, enjoy learning various things related to the "medical" field.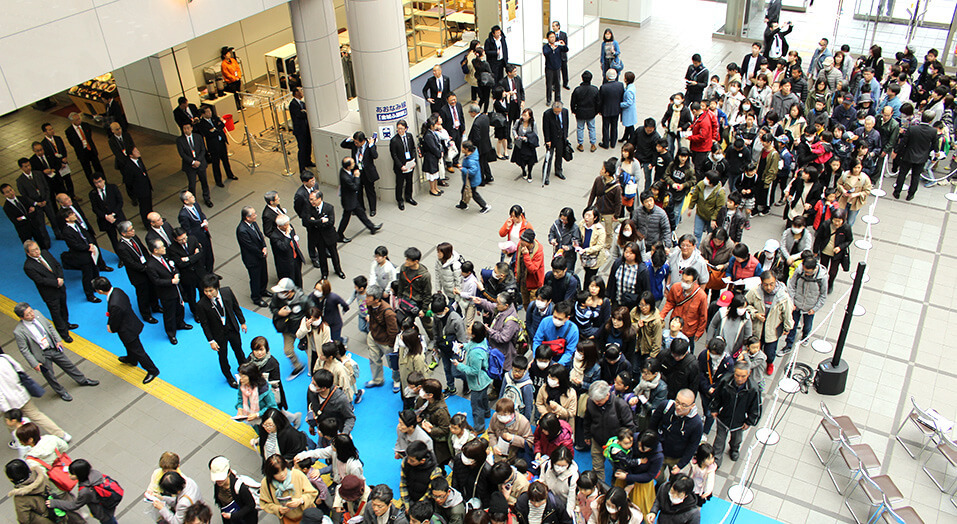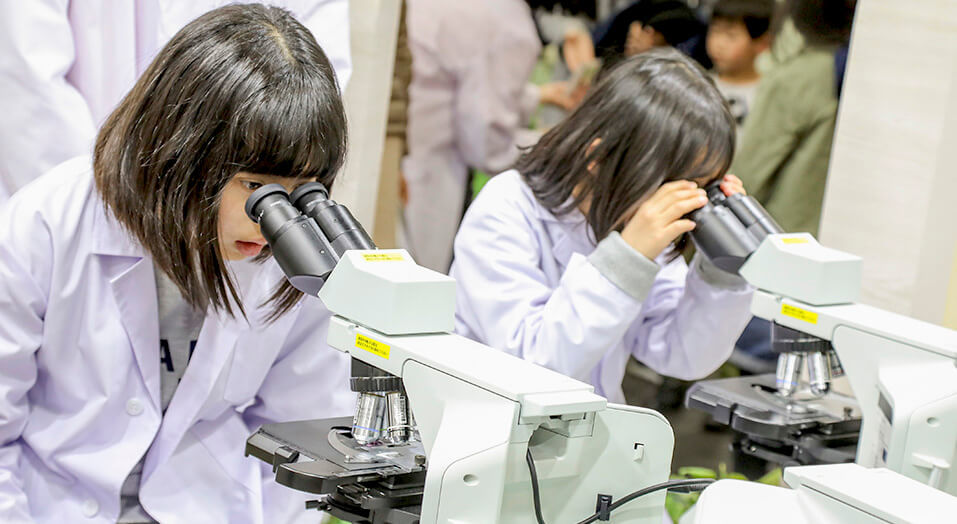 Medical theme park seen in a video
The five-minute video summarizes the attractions of the "Health Future EXPO 2019." We would like you to watch it as it introduces the crowded venue, popular experience booths, and other things.
Opening ceremony
Prior to the opening of the venue to the public, an opening ceremony was held at the Main Hall where the entrance gate is located. Many guests, including the governor of Aichi Prefecture and the mayor of Nagoya, delivered congratulatory messages, and the ribbon-cutting ceremony took place in the presence of visitors waiting for the opening of the venue.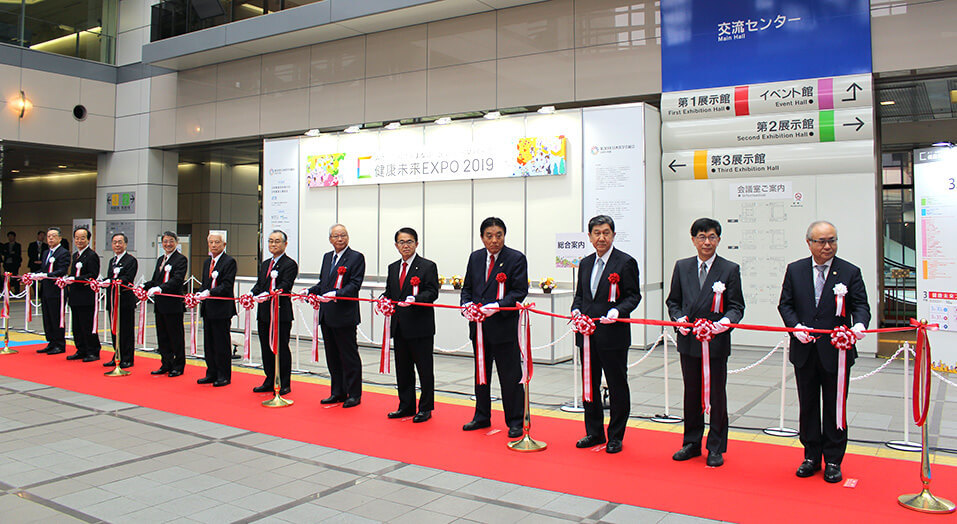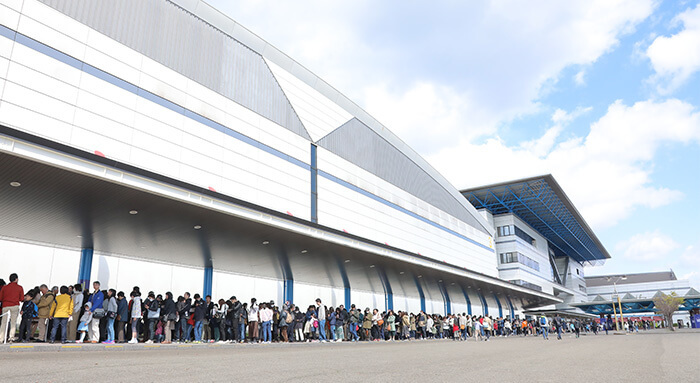 Surgery assistance robot "Da Vinci" experience
On Saturdays and Sundays during the event period, visitors were given the opportunity to operate "Da Vinci," a surgical assistance robot, on a first-come, first-served basis. It was very popular, with many visitors, from junior high school students to adults, enjoying the experience. Since its appearance on a medical TV drama, it has been introduced by many media outlets such as broadcasting companies and newspapers as a high-profile experience booth.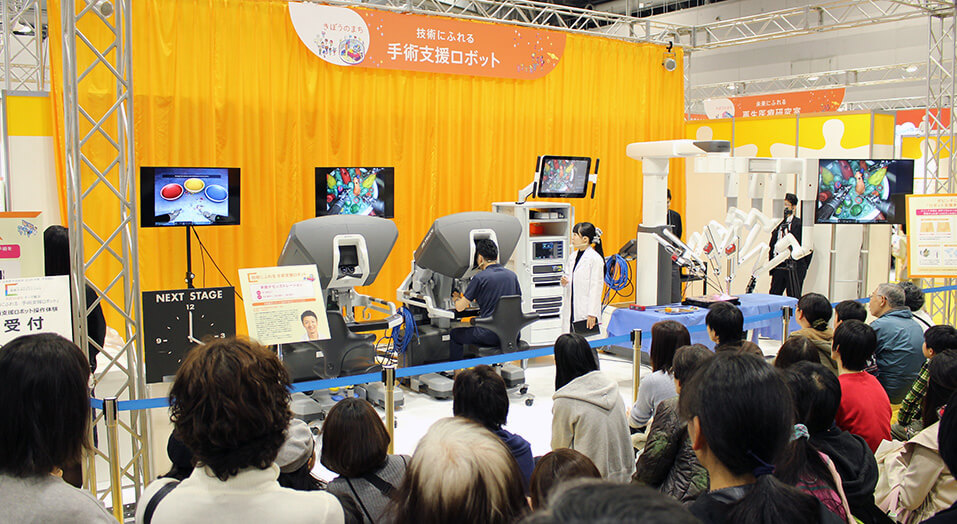 Work experience in 11 types of jobs in the fields of "Medicine and Nursing Care"
One of the booth areas that was crowded with children, mainly preschool and elementary school children, was the area called a "town of learning," where they could have work experience in a realistic manner. On weekdays as well as weekends, many visitors visited the booth area for this realistic work experience. Doctors and medical workers working at medical institutions and nursing-care facilities participated as trainers and provided the "work experience programs" for the event.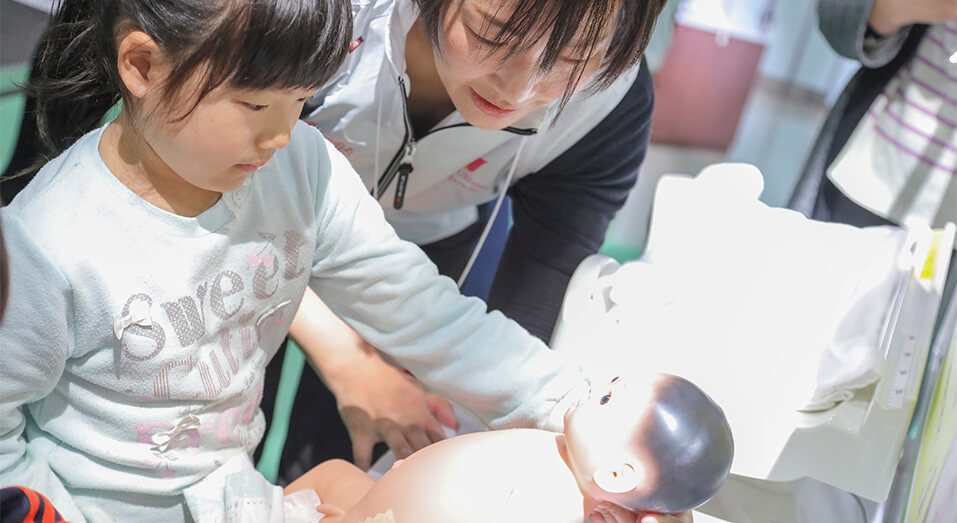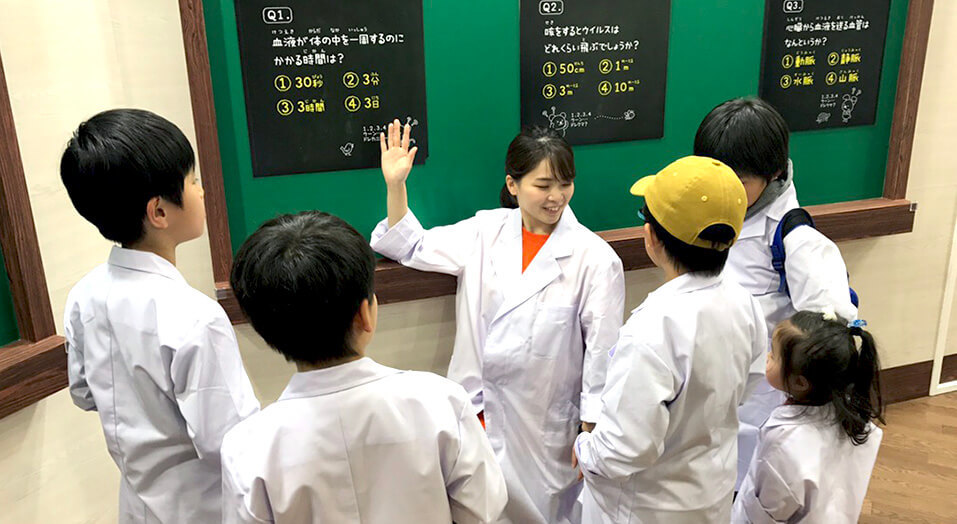 Orthopedist: Let's look at X-rays and touch artificial joints.

Pathologist:Let's look into a microscope and diagnose diseases. Let's conduct experiments using liquid nitrogen.

Nurse:Let's listen to the sounds of the heart with a stethoscope and take care of a baby.

Clinical laboratory technician:Let's learn about breast cancer and try ultrasonic examination (echography).

Physiotherapist:Let's operate wheelchairs and experience virtual aging.

Occupational therapist:Let's use the non-dominant hand, undergo training for eating movements, and use self-help devices.

Speech-language pathologist:Let's have the experience of suffering from aphasia and eating dysphagia diet.

Prosthetist:Let's wear artificial legs and make an ankle-foot orthosis.

Biomedical equipment technician:Let's operate a dialyzer and wear an artificial respirator mask.

Pharmacist:Let's prepare prescribed drugs suitable for each patient's constitution.

Certified care worker:Let's help someone turn over in bed.
Program for experiencing five types of sports
In the area of exercises and sports, various sports experience programs were offered daily, providing a place for participants to develop the habit of enjoying physical exercises. Many people, from small children to adults, tried sports that they have few opportunities to play in their daily lives.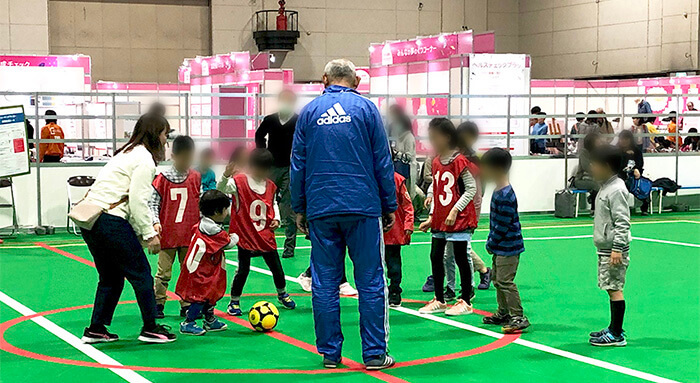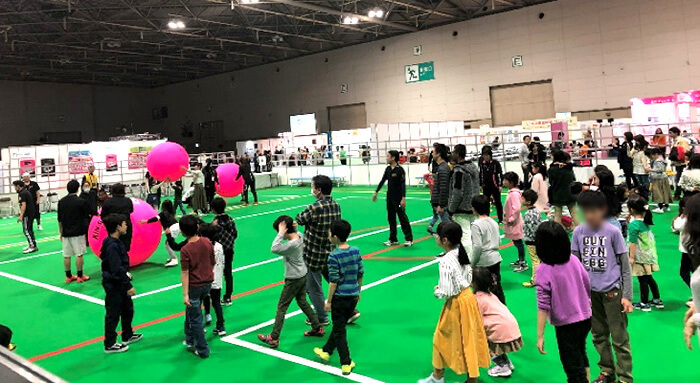 "TENNIS PLAY & STAY" for the easy enjoyment of children and beginners

"Kin-ball sport" using a ball of 122 centimeters in diameter

"Walking soccer," "blind soccer," and "amputee soccer" for the enjoyment of disabled people
"Voices" from participants
"I want to become a pharmacist in the future!"
"Voices" from visitors
I participated with my 3-year-old and 7-year-old children. There were more booths than I had expected, and my children could have various experiences, so they could enjoy the whole day. Since my daughter was interested in medicine after watching a TV drama, she was impressed from start to finish as she took a photo wearing a uniform and directly spoke with medical workers working at medical institutions.

Since our jobs are not related to medicine, we could not explain certain things to our child, while at the event, my child could enjoy experiencing such things. So, we had a very nice holiday. Our child was most impressed by the pharmacist work experience, as she wore a white coat and packed sweets resembling drugs in a bag. "I want to become a pharmacist in the future!" our child said with shining eyes, which was very impressive. The other booths were also designed to offer an enjoyable experience to both children and adults, and not just impart medical knowledge, and they disseminated knowledge in a pleasant way from a child's perspective.

I would love to participate in the event if allowed the opportunity.
---
"It is possible to feel familiar with and think about medicine and health, regardless of age or gender"
"Voices" from exhibitor companies

Mr. Koji Nagatomo
Director, WELLNESS Brand Headquarters
MTG Co., Ltd.
I think it was a very good event that provided opportunities for people of all ages, from small children to elderly people, to become familiar with and think about medicine and health and face their own bodies. We would like to make use of the various opinions and expectations we received during the exhibition for our future business. Thank you for giving us such a valuable opportunity.
---
Summary
The "Health Future EXPO 2019" was based on the concept of a "medical theme park to watch, touch and learn." It is the country's largest exhibition for citizens held as part of the General Assembly of the Japan Medical Congress once in four years. At the event, visitors can experience latest technologies related to medicine and healthcare, and both children and adults can enjoy it. The next event is scheduled in 2023, four years from now, and will be held in Tokyo.
Assignments commissioned to JCS
Operations related to academic exhibitions, citizens exhibitions, and medical history exhibitions at the 30th General Assembly of the Japan Medical Congress 2019 Chubu (planning, management, public relations, etc.)