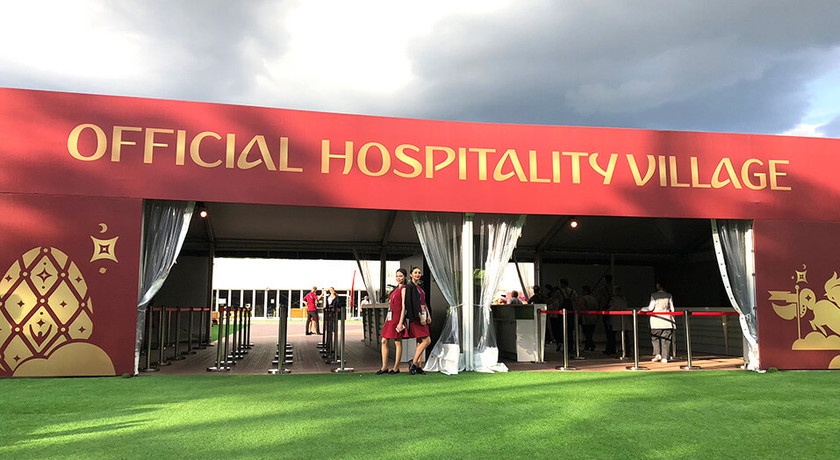 12.25.2018
Case Study #2 of the Official Hospitality Programme of the FIFA World Cup™
---
Major sports events are coming to Japan in 2019 and 2020 and more and more people are becoming interested in not only "Doing" and "Watching", but also "Supporting" sports.

In this 3rd column on the Official Hospitality Programme of the FIFA World Cup™, we would like to hear the voice of one of our clients, Nishio Rent All, Co., Ltd. that specializes in "Supporting" major sports events.
Nishio Rent All is a key player in the rental business and deals with comprehensive equipment such as large-size tent structures, display systems of exhibitions, and so on. They decided to inspect the Official Hospitality Programme of the 2018 FIFA World Cup Russia™ to expand their business in the sports industry. What was the impression of the Official Hospitality Programme from the perspective of a professional that supports sports events? We conducted an interview with Mr. Aoya, project manager of the sales department, 2020 project.
Please provide a company overview of Nishio Rent All Co., Ltd.
We started our business from the rental of equipment for road construction in1965 and currently our main business is to rent comprehensive equipment for construction sites and event sites. We expanded our business from the late 1990s by mergers and acquisitions and currently the annual sales of the Nishio Group including 14 companies in Japan and 9 companies overseas are 120 billion yen. In the sports industry, we rent a lot of equipment including large-size tent structures and floorings to a variety of events from school competitions to professional competitions such as Formula 1, marathons, basketball, table tennis and so on.

Our purpose for inspecting the Official Hospitality Programme of the FIFA World Cup™ is to prepare for the upcoming major events from 2019.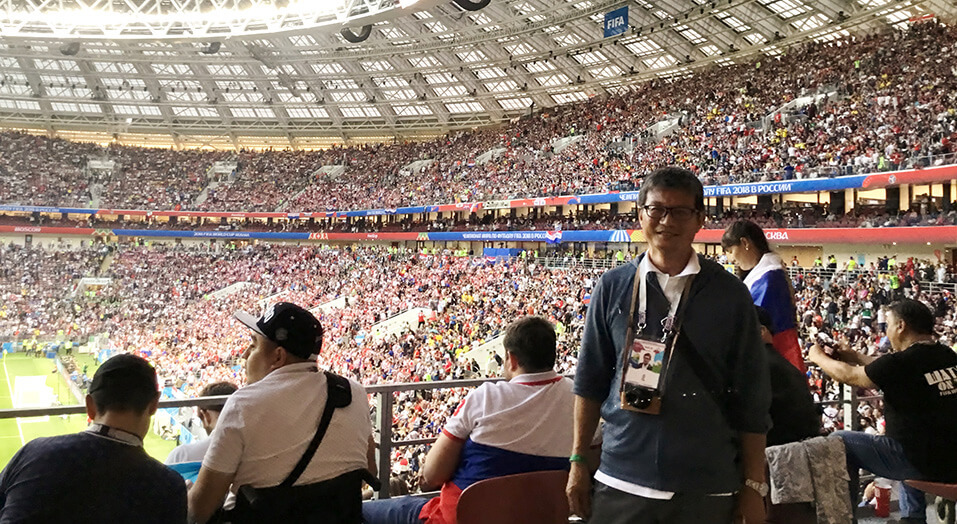 How did you like the Official Hospitality Programme?
It was my first time to experience the hospitality programme.

Once I entered the hospitality village 3 hours before kickoff, I was overwhelmed by its scale and structure even though I have extensive experience in sports events. The atmosphere in the Hospitality Village's buffet corner and seating area is spacious and allows you to forget that you are in the stadium perimeter. I found these settings enabled guests to spend an extraordinary time just like travelling in Business Class. I also noticed the hospitality village is designed for guests to have great communication with each other and it gave me a great idea for our future business. It was also extraordinary to watch the match from the seats very near to the pitch and I felt the voices of the 80,000 spectators were rocking the Luziniki Stadium.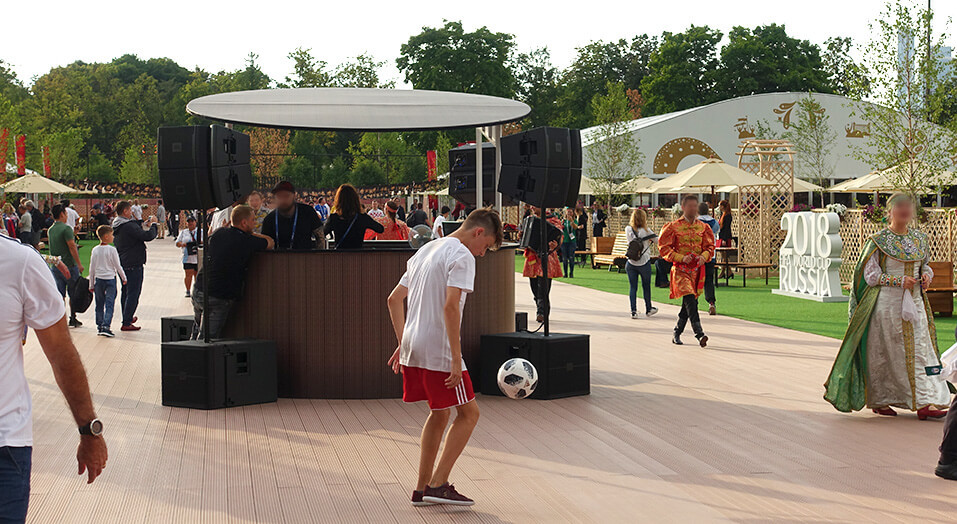 What do you think of the future of the hospitality program in Japan?
When it comes to hospitality in sports, the hospitality facilities for sponsors at professional golf tournaments that we worked for comes to mind. Recently, the hospitality programme seems to have become more popular as professional baseball clubs such as Tohoku Rakuten Golden Eagles, Hiroshima Toyo Carp and Yokohama DeNA Bay Stars have renovated their stadiums to enhance the number and satisfaction of customers.

We would like to maximize this opportunity and provide our service at many hospitality facilities. Having experienced acquiring friends through watching sports, I personally believe that watching sports is a great way to communicate with others and the hospitality programme is a unique opportunity to communicate with your guests. I hope the hospitality programme becomes more popular in Japan.
Please tell us the future of Nishio in the sports industry
Targeting upcoming major sports events, we have established a new department which is dedicated to the sports industry with 20 members. They will take the initiative in introducing new products that meet the global demands and strengthening resources of existing products. In the future, we aim to expand our business overseas as our construction business has succeeded.

We believe educating and training our employees is the key aspect to achieve this goal and this is the reason I decided to visit Russia with younger staff this time. Inspecting the global level hospitality gave us the confidence to play an active part at major sports events and we believe that we open the door to the new era of the rental business.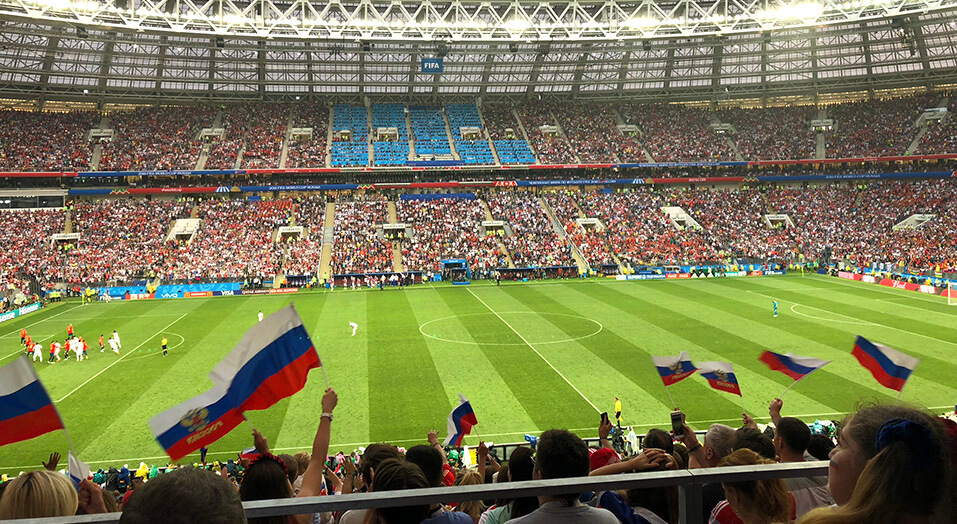 Editor's Note
Many companies have inspected the 2018 FIFA World Cup™ in preparation for the hospitality programme in 2019 and 2020. We look forward to welcoming many guests to the hospitality programme in which you can experience an ultimate space and extraordinary time.
The Official Hospitality Programme of 2018 FIFA World Cup Russia™

The sales of Official Hospitality Programme for 2018 FIFA World Cup Russia™ has ended.

Website