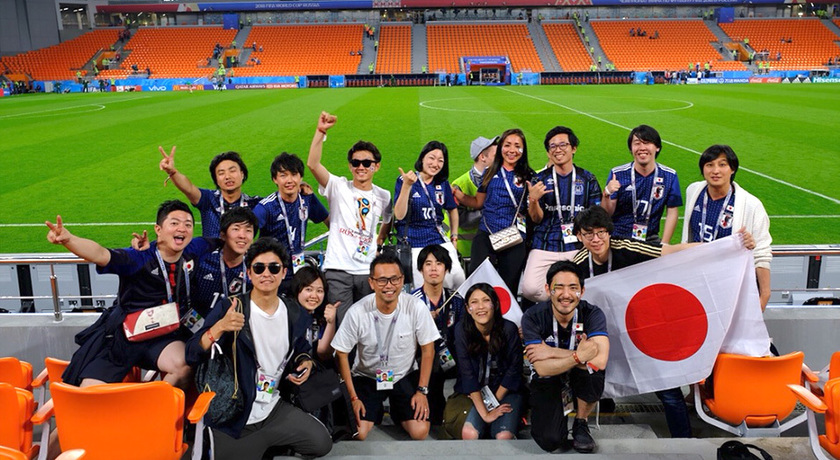 10.02.2018
Case Study of the Official Hospitality Programme of the FIFA World Cup™
---
Companies have often used incentive trips and internal events to motivate employees and enhance internal communication. Recently as more employees gain experience, the trips and events are required to be more special and unique to satisfy them and this is why sports hospitality has become more popular among major Western companies. In this 2nd column on the Official Hospitality Programme of the FIFA World Cup™, we would like to introduce the voice of one of our clients that took advantage of the hospitality programme for their employees at the FIFA World Cup™. Ms. Ishiyama, who is in charge of HR of CIRCUS, Inc. told us their story.
The Official Hospitality Programme of the FIFA World Cup™ for employees
We are an advertising agency established in 2004 and the average age of our employees is 31 years old. Whereas most of the major advertisement agencies have several departments by functions such as sales, marketing, creative, and so on, we do not separate the work and require our employees to be in charge of everything from beginning to end. Our business is strongly related to the sports industry especially for football and there are many projects on which we work with top football players such as Cristiano Ronaldo and Neymar, and it is this that differentiates us from other advertising agencies. Our company's name "CIRCUS" was named after that of a clown in a circus tent that inspired our founder to consider that as a Communication Concierge® we provide a value to our clients with hospitality just as a clown does.
There are several reasons we decided to let 16 employees who work for advertising with football players put through the Official Hospitality Programme of the FIFA World Cup™. Firstly, our founder and CEO, Mr. Kono knows the value of watching the FIFA World Cup™ with one's own eyes. He went to France to see the 1998 FIFA World Cup™ when he worked for a major advertising agency and this experience prompted him to start new business in the sports industry and finally establish CIRCUS, Inc. From his experience, he wanted the employees to grab the chance to enhance their careers and lives. Secondly, we started our overseas business from 2015 and now our business has spread to New York, London, Shanghai, Seoul, Hong Kong, and Taiwan. By acquiring the global hospitality standards through experiencing the Official Hospitality Programme, we hope that our young staff will improve their professionalism and provide further value to our customers.
We purchased the MATCH BUSINESS SEAT of Japan vs Senegal and everything we experienced was extraordinary such as entering the stadium from the designated gate and enjoying the buffet and drinks in the hospitality area. Watching the match from the best seats was the most exciting thing as many of our staff are enthusiastic fans of football. I myself cannot forget the excitement of the stadium when team Japan scored some goals. We also enjoyed time even after the match by taking group photos with an empty pitch in the background.

The trip to the FIFA World Cup™ was a productive event for us. Firstly, it enabled employees who work away in various parts of the world to get together and share the extraordinary experience and secondly, it helped to boost our employees' motivation. As I said earlier our employees are in charge of every process of each project which can give them a sense of accomplishment, but at the same time they have to work much harder than usual.
Participants Comments
It appears that they learned a lot through witnessing the once-in-a-lifetime moment and global hospitality standard and also felt refreshed in their busy days. In fact, after the trip, they maintained a higher level of quality and motivation even during large on-going projects. The staff who participated in this tour commented as follows:
I would like to make the best use of this experience for future work such as planning major events and working with top athletes.
I felt happy to be a part of CIRCUS.
I have come to think I would like to have a big impact on the world through my work.
Our CEO, Mr. Kono commented that "It was the first major challenge for us to conduct a company trip to the FIFA World Cup™. However I made this decision to express my thanks to employees who have continued to move in the same direction and for us to go one step further. I hope this trip becomes the spark for our staff to seize global project opportunities by themselves."
Editor's note:
The hospitality programmes at major sports events can be used by companies not only to entertain their clients and strengthen customer relationships, but also to motivate and educate their employees. It will undoubtedly be a fantastic opportunity to plan unique events in Japan where several major sports events will take place over the next few years. We will continue to support your activities using hospitality programmes at sports events. Please feel free to contact us.
The Official Hospitality Programme of 2018 FIFA World Cup Russia™

The sales of Official Hospitality Programme for 2018 FIFA World Cup Russia™ has ended.

Website