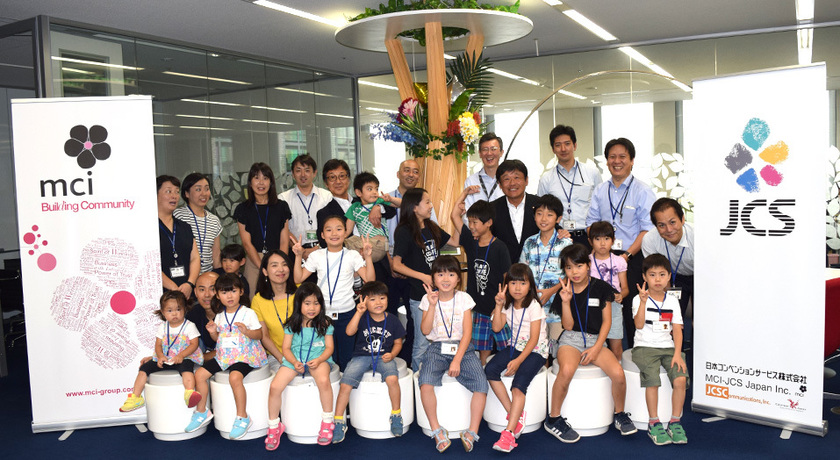 07.25.2019
Children Enjoy the Hearty Event "Family Visit Day" Held by JCS
---
JCS periodically holds the "Family Visit Day," providing employees with an opportunity to invite their children and family members to their workplaces so that they can rediscover the importance of "Family." JCS has so far carried out various events for employees and their family members such as "JCS Kid's International Conference" and "JCS Mom Café" with the aim to promote the creation of a corporate culture that makes JCS's work environment more comfortable.

At the "Family Visit Day" held on Wednesday, July 24, employees' family members, including their children, visited JCS. Children saw their fathers and mothers work at the office, which was something unusual for them, and spontaneously participated in many programs.
Nice to meet you! Exchange business cards with JCS President
Children exchanged business cards with JCS President Chikanami and briefly introduced themselves to him. This is a basic communication skill for making a good first impression in the presence of another person. They talked about themselves clearly, making eye-to-eye contact with him using their own words, despite looking nervous. They all seem to be promising children.
Field Tour - "Children's Approval Documents"
This is an activity that uses "Approval Documents," which are familiar to adults. Children take the documents to the staff or board members at the designated desks to get their seals of approval, one by one. Children learn that they can get permission to buy what they want when collecting all things required, which is a sort of experience of the adult world.
They might be able to know just a little about the efforts their fathers or mothers are making to get something.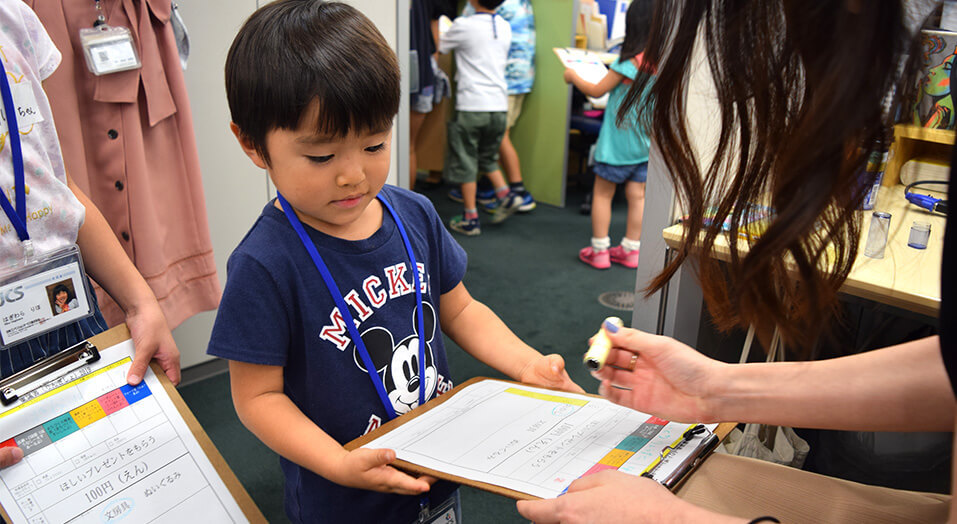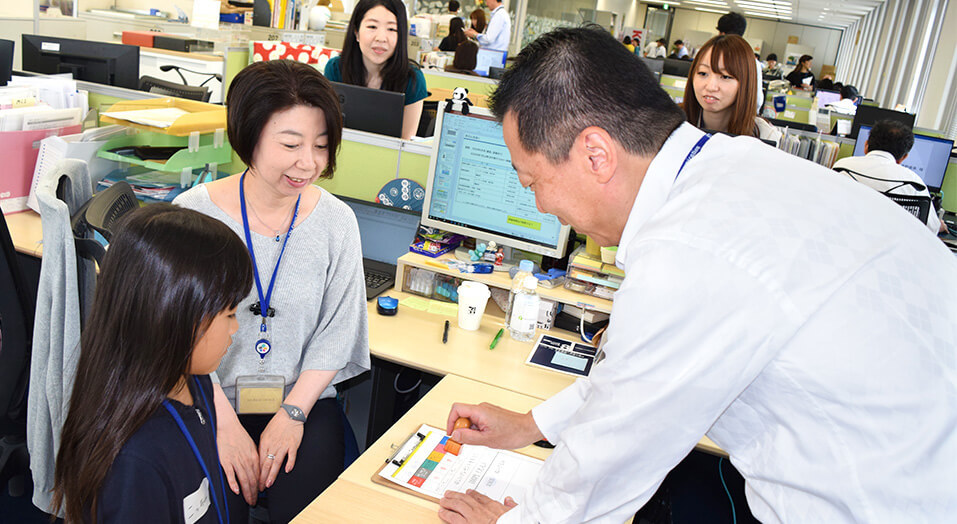 Experience of discussion - "JCS Kid's International Conference"
The topic of the conference was "the problem of marine plastic pollution."
The G20 Summit was held for the first time in Japan, and JCS provided a management service for the G20 Ministerial Meeting on Trade and Digital Economy in Tsukuba, Ibaraki. First, children needed to know about "international conferences," so they briefly learned about G20 as a case study. Then, they deepened their understanding of "the problem of marine plastic pollution," discussed it, and wrapped up the discussion. This topic was a bit difficult, but they exchanged opinions with each other actively.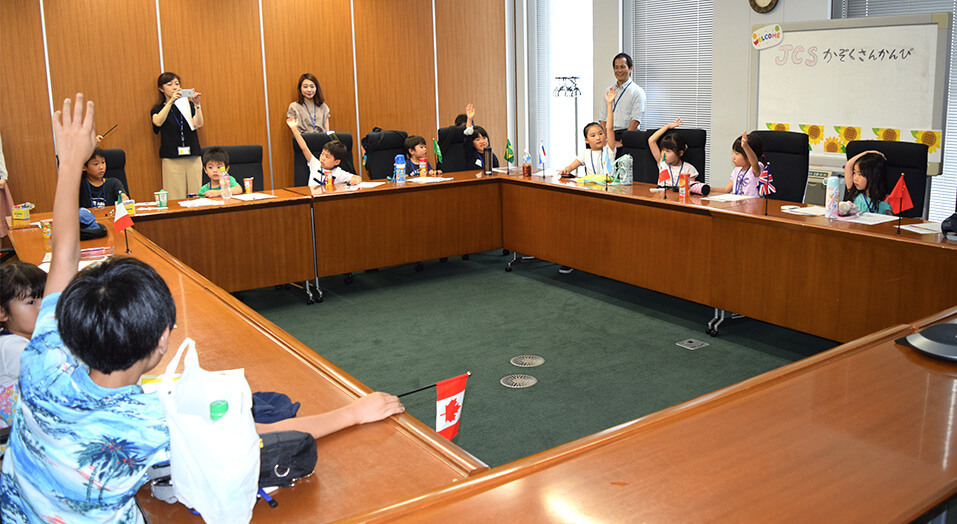 Workshop – "Making Congress Bag"
Participants in an international conference receive a congress bag with one set of documents inside. Children made an eco-friendly congress bag in relation to "the problem of marine plastic pollution." They made their own congress bags, which were the only ones in the world since the bags were unique to them, and discussed what they could do to reduce plastic wastes.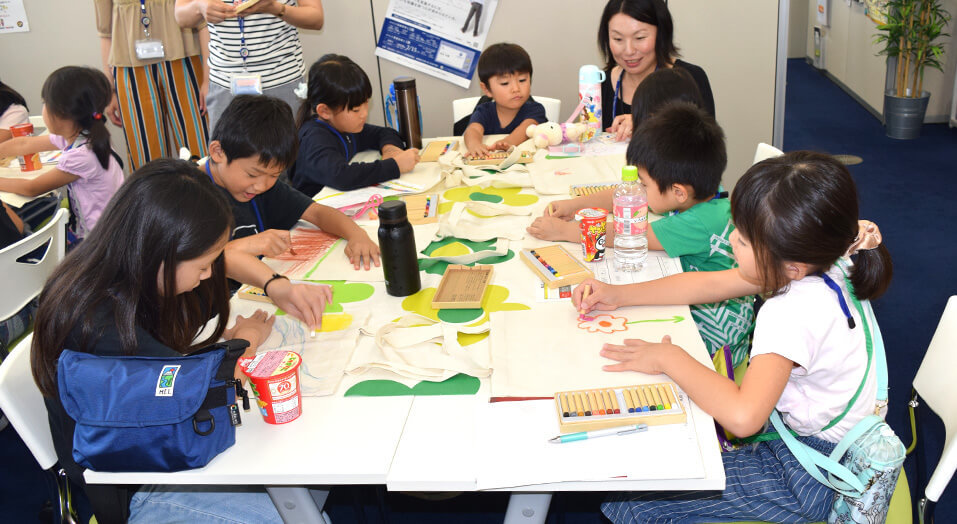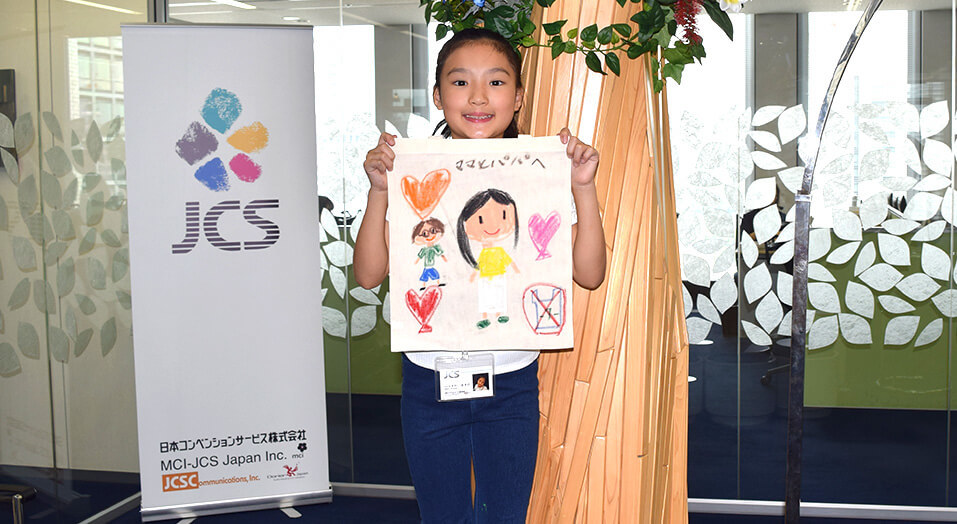 Editor's Note
JCS aims to create a corporate culture for a comfortable work environment through activities such as promoting interactions between employees and their "family members." New services leading to future communication might be created in an environment full of adults' and children's smiles. JCS will continue to spontaneously conduct hearty activities going forward. Don't miss them!